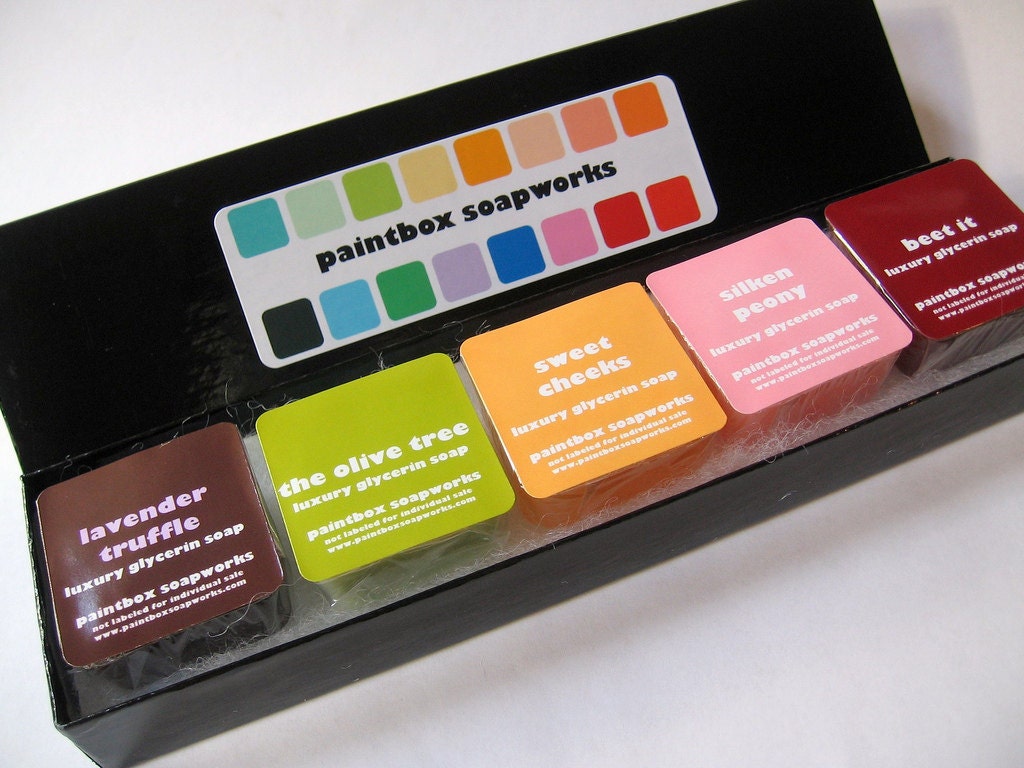 It's a very short leap from perfume obsession to a deep love affair with other scented body products, and I've been a soap junkie for decades. I can't think of the last time I used a standard drugstore/supermarket bar of soap, though there are some that are perfectly acceptable, of course. I never feel quite secure unless I have a good stash of indie/crafty/natural/fancy bars of scented soap in my bathroom cabinet, and right now I am really digging the wares produced by
Paintbox Soapworks
, an Etsy seller specializing in "Luxury Glycerin Soap" and coordinating lotions and scrubs. As you can see, the Paintbox soaps are charming even before you crack open the cheerful and sleekly designed wrappings. The scents are rich and inventive, and many are unisex. Just a few examples of what's available:
The Queen is Dead - Blackened honey, glossy leather & a glittering swirl of smoke rising from the earth...
Sweet Cheeks - Fuzzy ripe apricot cuddles up with sweet vanilla & amber & a touch of white freesia
The Olive Tree - An unusual, botanical blend of white olive blossoms, osmanthus & fresh air, grounded by blond woods & a touch of musk
White Cotton Sheets - Sometimes the simplest things are the best. Breezy white florals, dry musk, hawthorn & a touch of ozone
Glycerin soaps lather well and rinse off easily, which is great with sensitive skin like mine. One drawback is that they disappear relatively quickly as a result, but that's just a good reason to stock up. I actually like being able to swtich scents a little more frequently -- sometimes I'll have a large bar of something more solid that I enjoy but can't wait to see the end of so I can try something else.
I'm currently quite enamored of Paintbox's Lavender Truffle scent -- rich dark chocolate, scented with lavender. I just received my order of a trio of products scented with this -- a full size bar ($6), a bottle of body lotion "Slip" ($8), and a tub of "Sorbetto" sugar scrub ($10) which does indeed look good enough to eat. You can order the trio for $24, choosing whatever scents you wish.
I'm also very taken with the $6 soap sampler, pictured above. You get to choose any five general catalog soaps, presented adorably in a long box, nestled into cushioning as if they're jewels (or, OK, watercolors). It's such a great way to try out the variety of scents and a fabulous bargain.
While I'm at it, I'll also note that customer service is fantastic -- automatic refunds for combined shipping, a handwritten thank you note, a cute colorful plastic spoon for scooping Sorbettos, and a couple of free sample-size soaps are presented in a white shipping box stuffed with colorful tissue paper. It's lovely opening up for yourself, or for giving as a gift.
So three cheers for Paintbox Soapworks!